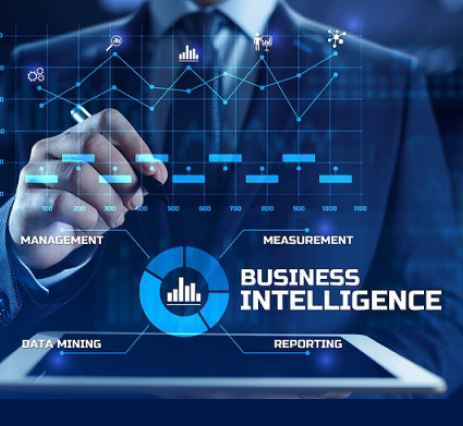 Business Intelligence
Business intelligence tool combines data analytics, big data mining, core data visualization, back office reporting data tools and infrastructure driven data, to help organizations make more data based â€"informed business decisions through dashboards, graphs, charts and maps to provide users with detailed information about the current state of the business.
What is the role of Business Intelligence?
BI- Business intelligence software harnesses the power of various output data within an organization into a simplified markers or dashboards. It offers an easy visualisation on a single screen that enables the users and stakeholders to sort, compare, and review data for enhanced business planning and make smart decisions. Business intelligence is focused on current and past events that are captured in the data and presented on a dashboard.
What is business intelligence with example?
Business operations of an organisation like sales, marketing, finance and production departments need business intelligence. To take real time informed decision making process it is imperative that the data generated needs to a quantitative analysed, real time performance is measured against pre-defined business targets, comparing customer insights with old records and sharing data to identify new business opportunities. It ensures accurate predictive analysis for organisation's future targets.
What are Business Intelligence Software benefits?
Real Time quick analysis, self-explanatory dashboards.
Increase organizational performance efficiencies.
Actual performance Data-driven core business decisions
Enhanced client-organisation experience.
Improve employee performance by way of performance measurement dashboard analysis
True data and comparative data.
Increased organisation's competitive edge in the industry.
Styles formats of business intelligence software
Large Data Minting and core Analysis.
Visual and OLAP analysis.
Business Enterprise Reporting.
Dashboards and Scorecards reporting.
Mobile Apps and Alerts real time.
Three components of business intelligence BI Software
There are three main components of the business intelligence software reporting schema, extractions processes, and embedded analytics, all of which comes out of the box with the application.
Critical challenges that Business Intelligence can resolve
Performance Management.
Slow Market Response.
Retain Customers.
Quick resolution in daily business Operations.
Time saving on unreliable excel data or Multiple data record systems.
Customised business reports for quick turnaround decision's
Access to Data limited to stakeholder's and users as per roles.
To conclude organisation's need
Business intelligence software tool to metricize internal activities happening in the organization and potential future outcomes. In today's competitive business environment it is imperative that organizations must be prepared to stay ahead of the competition and also retaining existing customer base.